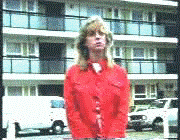 Previous film: Forever Joy
The slideshow has photos from 90 minute film FOREVER JOY about an artist: Movie info. If only a couple of photos are shown or some appear "black", try using BACK from the toolbar to jump to the previous screen, and then use FORWARD, which should then make it load OK.

Use REFRESH to repeat from the beginning. Use STOP to stop on particular "shot".
Also available is: QuickTime extract
Return to Movie Craft Home Page
© John Martin, 2001-2004 E-mail: info@moviecraft.ltd.uk Last Modified: February 11h, 2004